At Tetley, we are committed to ensuring a better life for our farmers, better tea for you and a better environment for everyone.
Tetley is one of the founding members of the Ethical Tea Partnership, helping to create a thriving, global tea industry that is socially fair and environmentally sustainable.

The ETP uses independent monitors to assess how estates are performing against the social and environmental criteria laid out in the ETP standard. They also partner with reputable organisations to jointly raise funds for projects that will help producers meet these standards. Since it was founded in 1997 the ETP has worked on a wide range of issues that have brought about long lasting improvements for people who live and work on tea estates. Find out more at: www.ethicalteapartnership.org.

In addition to its membership of the Ethical Tea Partnership, it has committed to source all its tea from Rainforest Alliance certified farms by 2016 – a step the Alliance described as an "industry-changing leap". The ETP works with Rainforest Alliance to help estates achieve Rainforest Alliance certification. Tetley's progress on this journey was recognised in 2013, when its parent company. Tata Global Beverages was awarded a Sustainable Standard-Setter Award.

To date, the Rainforest Alliance has helped conserve the water, soil and biodiversity of more than 50 million hectares of forest and farmland in 70 countries and improved the lives of more than 2 million workers and their families. You can find out more about the Rainforest Alliance by visiting their website www.rainforest-alliance.org.
The Rainforest Alliance is a non-profit organization that aims at conserving the biodiversity and ensuring a sustainable livelihood through methods that transform business and land-use practices, and consumer behavior. Tetley's commitment to source all its teas from Rainforest Alliance certified farms is a reflection of our dedication to the future of the tea industry.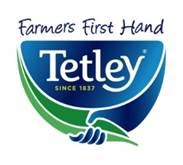 See the impact of Tetley's initiatives for yourself, by visiting the Farmers First Hand Facebook page. Here you'll be able to interact with farms directly, and share the updates through your own social media. The farmers love to receive messages from the people who drink the tea so don't hesitate to send them a message!